AKURATE EXAKT DSM
The Accurate Exakt DSM is one of Linn's very best network music players. You can connect practically any audio source in just a few seconds. It's just as easy to play music from your own network as it is to listen to an online streaming service. With all its digital and analogue inputs the possibilities are endless. The Akurate Exakt DSM also has connections for your turntable using its on-board phono stage. And Airplay through your tablet or smartphone? Sure!
The Akurate Exakt DSM transfers the audio signal undistorted and without any loss to your Exakt Akubarik or Exakt Akudorik speakers. A Linn Akurate system is a love that lasts a lifetime.
streams any connected source lossless to the Exakt Akubarik/Akudorik-speakers using Exakt Link
plays audio from each netwerk source of any device connected to one of its 13 inputs
easy to control with your smartphone (iPhone / Android), tablet, laptop, PC or Mac
10 digital inputs (Balanced XLR, RCA phono)
3 analogue inputs (Balanced XLR, RCA phono)
configurable phono stage input (line level, MC or MM)
digitalizes analogue sources with high quality digital converters
4 Exakt Link connections for Exakt speakers or Exakt Tuneboxes and for future system upgrades
decodes FLAC, WAV, Apple Lossless (ALAC), MP3, WMA (not lossless), AIFF, AAC en OGG audio formats to 24-bit 192 kHz native sample rate
available in silver and black
THE SOURCE IS IN THE SPEAKER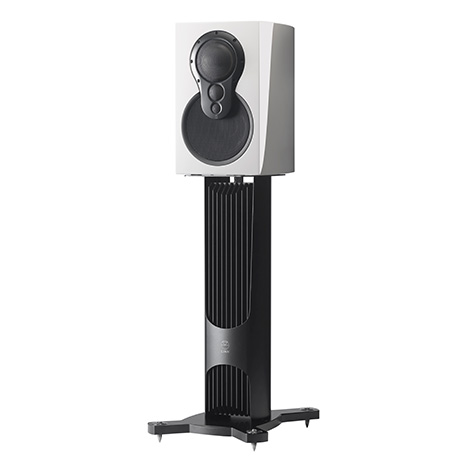 Exakt Akudorik speakers
Form and function don't have to be each others competitors. These Exakt Akudorik speakers sound just as good as they look. The elegant base is not only meant to stand on, it's at the same time the housing of the high end technology that is responsible for the great performance of these speakers. With Linn Exakt technique and Space Optimisation+ on board, these speakers can be considered a class of its own.
For the finishing you can choose Black Ash, Cherry, Oak, Rosenut, Walnut and White. Do you prefer it shiny? That's also possible. You can choose from 200 gloss finishes.
Exakt Akubarik speakers
We invite you to come and get to know the Exakt Akubarik speakers. You will be amazed of the performances of the Isobarik bass system. This system gives a surprisingly tight and deep bass for a speaker of this size. And also the stunning precision of high and middle frequencies will astonish you.
These speakers are equipped with the unique Linn Exakt technology. Because the signal is only transferred from digital to analogue inside the speaker, nothing of the original recording is lost in the audio chain, and there is no risk of distortion. Moreover, Space Optimisation+ makes sure that you enjoy the best possible sound in your room, whatever the speaker alignment.
The hand finished Exakt Akubarik speakers are available in 200 colors of gloss and in 6 different kinds of wonderful wood veneer. For the 3K Array you can choose between silver and black.
Kom dat horen
Wij geven je graag onze volle aandacht en tijd als je onze winkel bezoekt. Daarom maken we het liefst een afspraak, dan kunnen we ervoor zorgen dat we met meer collega's aanwezig zijn.