SIMPLICITY
A SINGLE CONTROL BUTTON
An active speaker integrating all available connectivity to listen to your music, no matter which audio source gets your preference.
Ready to use out of the box.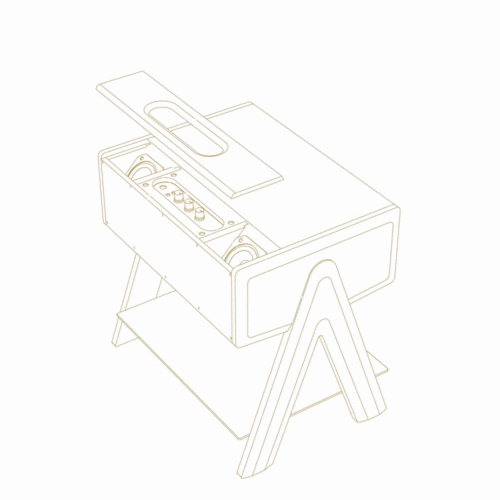 PERFORMANCE
A NATURAL & IMMERSIVE SOUND
A natural and immersive sound delivered by exclusive speakers incorporating the immersive Wide Sound® 2.0 technology.
To allow you to listen your digital music with quality.
DURABILITY
TIMELESS MATERIALS
Available in many wooden finishes, the Cube is assembled in Europe in the Basque country by industrialists and craftsmen concerned with quality and longevity of the products.
PATENT & INNOVATION
Wide Sound 2.0®. A natural and immersive sound thanks to the reflection of the sound of the rear speakers on their own internal reflectors.
Developed in our R & D lab, this patented technology allows for both expanded stereophony regardless of the position of the speaker in the room and an immersion and sound stability unmatched.
SPECIFICATIONS
The Cube has 3 speakers: 1 front speaker for the bass and 2 rear speakers incorporating the Wide Sound® 2.0 immersive technology that allows for optimal sound diffusion from floor to ceiling with a 360 ° radius.
The woofer in the central of the facade is equipped with a double bass-reflex for incisive and high-performance bass. The 2 full range loudspeakers at the rear have their own internal reflectors and give incomparable sound stability. La Boite concept's patented Wide Sound® 2.0 offers total immersion and enlarged stereo sound wherever the Cube is in the room thanks to the sound reflection.
DIMENSIONS / LONGUEUR 47cm x LARGEUR 49cm x HAUTEUR 35cm
WEIGHT / 17 kg
TOTAL POWER / 200 W
RMS POWER / 100 W
SURFACE DE SONORISATION MAXIMALE / 150 m2
Total power 3 channels totaling 200 Watts
Hi-Fi RMS power at 8 ohms at 0.1% THD: 100 Watts (Class D, DSP, 2.1, 1x50watts + 2x25watts)
1 x 13 cm double bass reflex Woofer with cellulose pulp cone
∅ 13cm
2 x 8cm full range rear speakers (Wide Sound 2.0® patented) + internal reflectors
∅ 8cm
2 x 6cm aluminium bass reflex vent ports
∅ 6cm
SUITABLE FOR ALL YOUR AUDIO SOURCES
A mini-jack (3.5mm) input is located on the desk pad of the cube near the control buttons
The Bluetooth 4.0 Codec Apt-X built-in.
Under the cube (above the shelf) there are inputs that connect devices:
An analog RCA input, a digital optical input toslink (DAC 24-bit 192Khz), to connect CD player or Box and TV without any delay between the voice and the image.
[row_inner_3] [/row_inner_3]